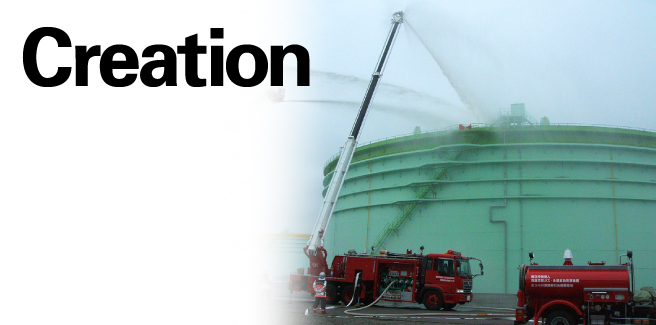 Safety is the most serious company's top-priority objective, due to its stockpiling of huge volumes of crude oil.
The base facilities are comprehensively monitored on a 24-hour, 365-day basis from integrated control rooms, using instruments such as TV cameras, sensors, and patrols of specific locations by staff who keep an eye and ear on the condition of the facilities and security.
Tanks and pipes, equipment and instruments of the facilities are inspected and serviced according to annually planned schedules as based on long-term sustainable maintenance, through a rigorous safety / sanitation management system (ISO45001).
To minimize possible damage in the event of an accident or disaster, we have fire engines and firefighting boats on standby, as well as fire-extinguishing equipment installed on the tanks and throughout the base facilities.
In addition, a large-capacity foam fire extinguishing system for fighting large-scale fires is currently under construction.
Groups of safety staff reside on the premises year-round and are repeatedly drilled on accident prevention and oil spill removal.We are fully prepared in terms of accident and disaster prevention.We are currently working to create safety operations in addition to mechanical safety systems operator's full care namely the very eyes, ears and fingers of staff members, making full use of their five senses day in and day out.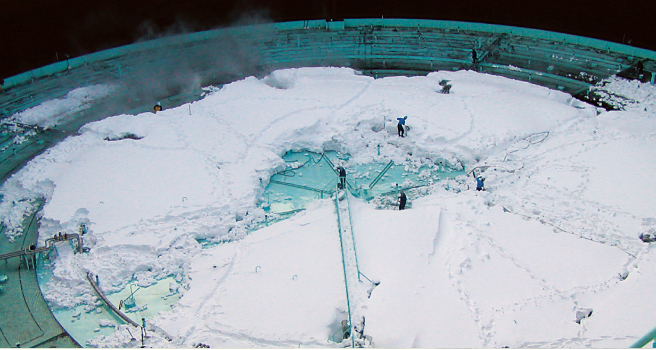 Snow Removal from the Rooftop of a Tank by Spraying Water and Steam Pipe
---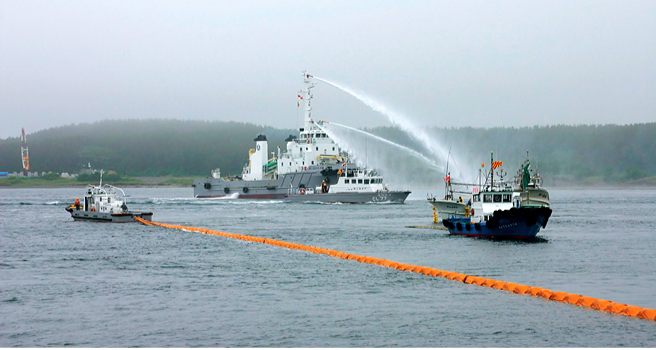 Firefighting Drill at the Sea
---